What is the difference between the K9Compass VS. Double Dog Run?
K9Compass  VS.  Double Dog Run
Weight Limit
800 LBS  VS.  1200 LBS
Length
14 inches  VS.  16 inches
Install
No Tools Required; 1-5 minutes to install  VS.  Tools Required; 5-10 minutes to install
Time on the Dog Tie Out Market
Released 2020  VS. Released 2011
---
Have questions? Call or Text a REAL Person! 
484-944-4281
---

Are dog tie out cables included with the system?
We DO NOT include dog tie out cables with either system.  The reason for this is so you can choose your own size; width and length.  You do not have to buy the tie out cables from our website.  As long as the dog tie out cables are vinyl coated, you can use any brand and length you need. NOTE:  Be sure to purchase tie out cables that are not too long.  Dogs need to use the FULL LENGTH of the tie out cables in order to reset the hardware on the system.
---

Can I use the dog tie out cables I already have?
Yes, you can, we only ask that you check you tie out cables for kinks and cracks in the vinyl coating. Kinked and cracked dog tie out cables will result in tangling of the tie out cables.
---

Can I use the dog tie outs with dogs of multiple sizes and weights?
Yes, you can!  You can have two dog tie out cables that are different in their thickness / weight limit.  However BOTH cables need to be the SAME LENGTH.
---

Can I mow my grass without uninstalling the dog tie out?
The K9Compass will need to be removed or a weed eater will need to be used for mowing; HOWEVER, the Double Dog Run can be mowed over on the base plate portion of the dog tie out.
---
Is there a warranty on the dog tie outs?
Yes, both the K9Compass and Double Dog Run come with a 2-year limited  replacement warranty! Please check out our Warranty and Returns Page Here
---

Why are Double Dog Run dog tie outs more expensive than others?
The saying goes, "You get what you pay for."  In the dog tie out world you will see dog tie outs claiming to hold 1000 lbs or more; but once you installl it- the tie out either breaks or is not what you thought you were buying.  OUR PRODUCTS are made to last, made to be installed and reinstalled as much as needed.  The materials we make our dog tie outs with are all weather proof or weather resistant.  We only use the best and most high quality materials on the market today!  Our dog tie outs are the most secure and durable dog tie outs around; PLUS all our dog tie out systems come with a 2-year warranty!  We prepared the table below to help you see the difference between our dog tie outs and the competition. No one can compare to our quality, strength and tangle-free aspects!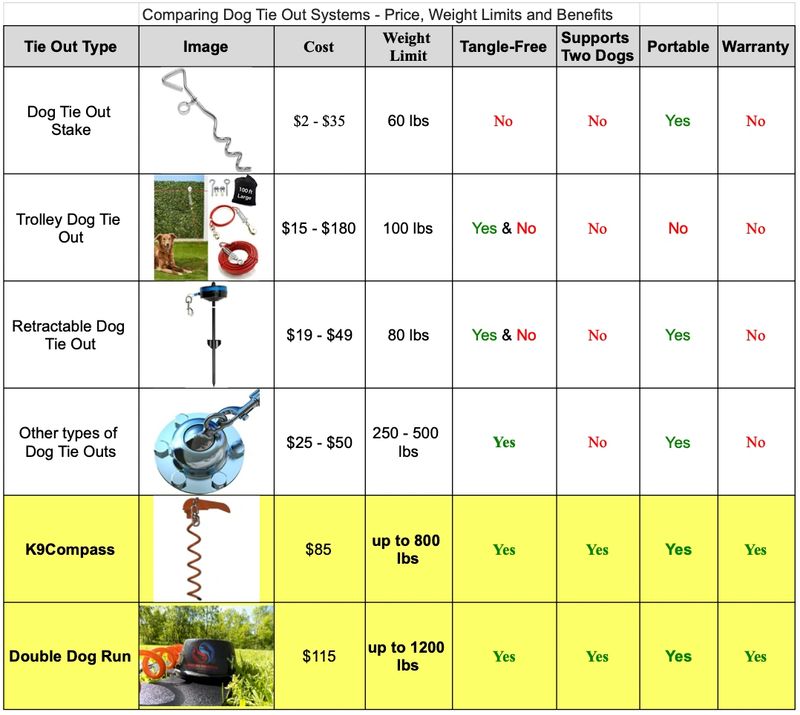 ---

Can I use the Double Dog Run or K9Compass as an alternative to a fenced yard?
Yes, you can.  Fences can be very expensive to build and will need constant upkeep and monitoring. If you have a dog that likes to dig or jump, a fence may not be the best solution for you.  Learn More about the cost of Different Fencing and Dog Tie Outs Here.
Why aren't your dog tie outs in major stores and websites like PetSmart, Chewy or even Walmart?
We pride ourselves on being USA based and for providing the best QUALITY and SECURITY.  We do not want to sell out and begin manufacturing overseas. We feel we can grow and be just as successful as the bigger brands by supplying our tie outs online. We also, do not want to license our products to any other company as they will then manufacture it with cheaper materials and it will most likely be produced overseas... this will compromise our own reputation for strong, tangle free two dog tie outs. We vow to keep our business U.S. based and will grow our business slowly over time by maintaining the quality and security our customers expect!
---

Do you sell on Amazon?
Yes, when inventory is available to supply, you can buy Double Dog Run Products on Amazon:
---
---
---